ビズ ゲーマー [Bus Gamer]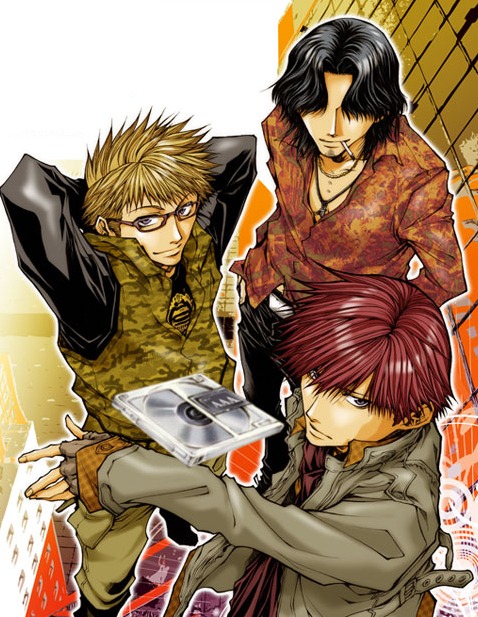 Режиссёр: Кудзуя Наоюки / 葛谷直行
Автор манги: Минэкура Кадзуя / 峰倉かずや
Композитор: Нагасима Хироюки / Nagashima Hiroyuki / 長嶌寛幸
Вокал:
Судзумура Кэнъити / Suzumura Kenichi / 鈴村健一 — NO NAME
Такахаси Хироки / Takahashi Hiroki / 高橋広樹 / 高橋宏樹 — NO NAME
Сувабэ Дзюнъити / Suwabe Junichi / 諏訪部順一 — NO NAME
Судзумура Кэнъити / Suzumura Kenichi / 鈴村健一 — Train (эп. 1)
Сувабэ Дзюнъити / Suwabe Junichi / 諏訪部順一 — Train (эп. 2)
Анимация: Харада Минэфуми / Harada Minefumi / 原田峰文 — контролер анимации
Раскадровка: Кудзуя Наоюки / Kuzuya Naoyuki / 葛谷直行
Общий контроль: Минэкура Кадзуя / Minekura Kazuya / 峰倉かずや *а как же иначе?^______^*
Animation Production: Studio Izena
Production: Frontier Works
Recording Production: Omnibus Promotion
Трансляция: c 15.03.2008 по 29.03.2008
Выпуск в 02:30 [ночной сеанс] на KBS Kyoto
Серии по 25 минут:
01. AAA (no name)
02. Price of Tomorrow
03. Gamer Alone Again

Главперсонажи :
Mishiba Toki 【美柴鴇】
Age: 20
Birthday: February 14, 1979
Hair: Red
Eyes: Purple (?)
Blood Type: A
Height: 168cm (5'6)
Weight: 54kg (119lbs)
Residency: Shizuoka prefecture
Hobby: Meditation (zoning out)
Special Skill: High proficiency in several martial art, needlework
Favourite Foods: Salmon, Manroken's super-spicy kimchi ramen
Team: AAA
Occupation: Student but works part-time as a bartender
Note: If you call him and he doesn't answer, it's probably because he's not listening
A student at a Design trade school. Raised in an Aikido dojo which explains his 2nd degree in black belt in karate, 4th in Aikido and 1st in Kendo, he excels at martial arts without weapons in general, but his outward appearance is delicate as a kozuka (knife attached to the sheath of a sword). He's short of height but secretly complex. Expressionless and reticent, and doesn't show at a glance what he's thinking, but there's rumors that he's actually unexpectedly just zoning off. He doesn't talk, but he's always sleepy or hungry. The bar manager at his job is his surrogate older brother, and he opens his heart only to him. Currently he lives alone in a one room apartment, and the circumstances of his family is unknown. It seems he had a twin brother named "Shigi". He currently works part-time as a bartender, and a tape copier. His favorite food is salmon. He gets in a sort-of good mood when he eats Salmon Onigiri (Though he doesn't show it). He can easily be distinguished by the weird outfits he wear.

Nakajyo Nobuto 【中条伸人】
Age: 22
Birthday: March 23, 1977
Hair: Black
Eyes: Purple (?)
Blood Type: B
Height: 183cm (6')
Weight: 72kg (159lbs)
Residency: Chiba prefecture
Hobby: Cooking
Special Skill: Strategy games, theft, street fighting (received training during his gang tenure)
Favourite Foods: Beer, ankimo
Team: AAA
Occupation: College Student
Note: Lectures at a shogi center on his day off
Nakajyo is currently a college student, medical faculty. Actually the third son heir to a serious illness hospital, he is currently legally disowned, and isn't going to college. Tall and muscular, if you look at him closely he's a good man, but usually his hair is long enough to hide his eyes. He now lives in a 6 foot apartment, but it seems there's always women in his room (But each time it's a different woman) Cool and completely realistic, he's a nihilist who has great confidence in himself. However, he's good at taking care of people, and as the eldest, he exists as the leader of AAA. Strong is strong, but he has experience in brawls rather than grappling, and he is a man who doesn't hesitate in the face of violence. Although he has accepted equal responsibility as an active team member for the time being, there remains the possibility at some crucial moment he might abandon AAA if it was to his personal advantage.His favorite food is drinking alcohol, and he's a heavy smoker that usually smokes Cabin cigarettes. His current jobs are as a lecturer in a Shogi classroom, guard, holding 2 or more jobs at a day labor place as a manual laborer.

Saitoh Kazuo 【斉藤一雄】
Age: 18
Birthday: July 18, 1981
Hair: Bright orange
Eyes: Purple (?)
Blood Type: O
Height: 181cm (5'11)
Weight: 72kg (159lbs)
Residency: Tokyo
Hobby: Reading manga, making plastic models (gundam), playing video games
Special Skill: Electronics expert
Favourite Foods: Pretz, yakisoba with peyangu sauce, fruit pie, hamburger, spaghetti
Team: AAA
Occupation: High School Student
Note: Recently was forced to head his high school's cultural festival committee
He is currently a Senior High school student. Presently he's a normal youth who is the only son of the Saitoh house, helping run a small electronics store, but he lost both of his parents at a very young age. He's tall to the point where one would ask "What did you eat to get so big?", his insides are empty, and to get right to the point, he's an energetic idiot. In fact, in his own way, he's a large dog of a boy that is sensitive to the subtle feelings of those around him. Forced to be friends with Nakajyo and Mishiba, they are fond of him but usually he's a burden. He never fights, but he's good with machines, and oddly enough he excels at the ability to reason through puzzles and memory problems. His hobby is video games. His favorite foods are hamburgers and spaghetti. His current job is, secretly, he's the convenience store clerk at his school.

*я думаю переводить смысла нет - и так все понятно*


В ррролях(^___^):
Hiroki Takahashi as Kazuo Saitō
Junichi Suwabe as Nobuto Nakajō
Kenichi Suzumura as Toki Mishiba
Yasushi Miyabayashi as Kiryuu
Mahiru Konno as Saitō's Mother (ep 1)
Mugihito as Yanagida (ep 2)
Youji Ueda as Santa (ep 1)
Chiaki Kanou (ep 2)
Hajime Iijima (ep 1)
Hiroaki Yoshida (ep 2)
Keiichirou Endou (ep 2)
Saori Seto (ep 1)
Takashi Matsuyama (ep 1)
Takurou Nakakuni (ep 2)
Teruyuki Tanzawa (eps 1,2)
Yuuki Masuda (ep 1)


*википедия, ньюс нет ворк, ворлд арт*